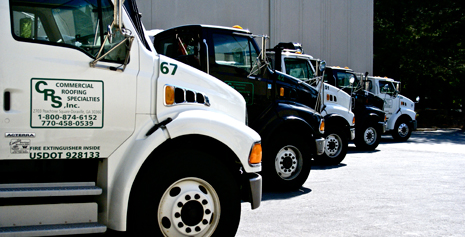 A few of our valued services include:
Prompt delivery: Materials and equipment can be delivered at a moment's notice to job sites in the vicinity and across the U.S. with prior notification.
Will call: Call one of our roofing experts to place an order and it will be waiting for immediate pick-up.
Job site unloading: As part of our delivery service, we can send CRS® personnel to your job site to help unload trucks sent directly from the manufacturer-allowing faster delivery than usually possible.
Rooftop crane assistance: For large amounts of material on commercial jobs, we can unload and place the material on the roof with one of our cranes.
Conveyor service: Customers in Savannah have the option of utilizing our conveyor to bring material directly up on the roof-eliminating the need for the crew to carry it.
Tapered roof design: If your commercial job requires tapered roofing, our design professionals can provide tapered roof plans and instructions to guide you through the design and installation.
When you're ready for the expert assistance of the professionals at CRS®, give us a call. We're ready to provide the materials you need and the service you'll value.